The 11th Annual How Weird Street Faire took place on 2010 May 09.
---
On 2010 May 08, the Nā Lei Hulu I Ka Wēkiu dance troupe performed at Yerba Buena Gardens.
---
I'm not– not for a second– suggesting anything unusual is going on.  All I know is I was out working on a photograph of some street furniture, and two guys came by– separately– and did quick mugs for the camera.  Thing is, each posed by getting down and leaning on his knee– a peculiar position nobody who's spontaneously posed for me has ever adopted before.  Then I happened to look more closely at part of what I'd been shooting…
---
On 2010 May 1, an interesting coalition marched through San Francisco's Mission District to the Civic Center: folks calling for immigration reform, folks specifically protesting Arizona's SB 1070, and labor unionists.
---
---
---
The 2010 Cherry Blossom Festival Grand Parade took place on 2010 April 18.
---
Last year, on 2009 April 15, hundreds of folks came out to San Francisco's Civic Center, site of our City Hall, to rally in favor of the newly-formed "Tea Party" movement.  (Link: photos of 2009 Tea Party event.) The speakers' recurring themes included fortitude and staying in it for the long haul; many signed off with a variation on "See you next year!"
Next year is today.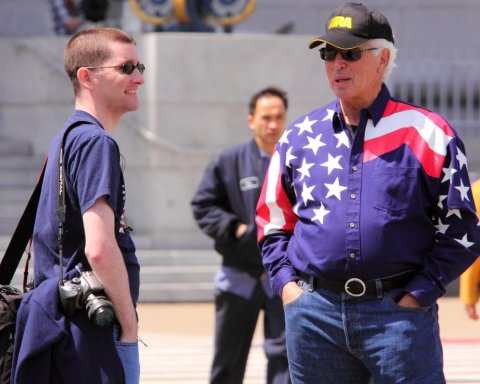 Left to right: photographer looking for Tea Party rally; bystander; the Tea Party rally.
Media folk, remembering last year, turned out in force. Two news vans.  Half a dozen still photographers.  Two counter-protesters, complete with skit; perhaps they're on YouTube somewhere.
One gentleman in a red-white-and-blue shirt and NRA cap.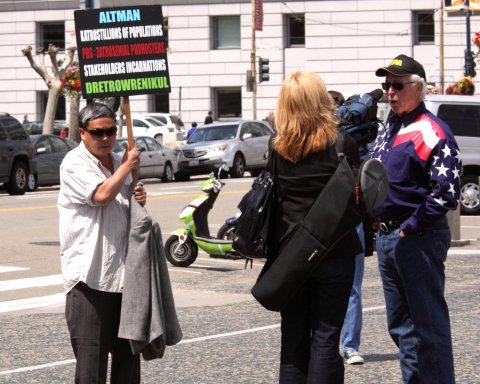 Left to right: local eccentric Frank Chu; interviewer; foot; the Tea Party rally.
So.
In other news, here's a gallery of three guys who saw me walking by with my camera and asked if I felt like taking their pictures.
---
All of these are from 2010 April 10.
---
Okay, mostly mimes– but what can I say?  They were expressive…
The sculptures are just across from AT&T Park, on a building named "170 Off Third".  They're by Alexei E. Kazantsev; see http://www.aksculptstudios.com/ .
---